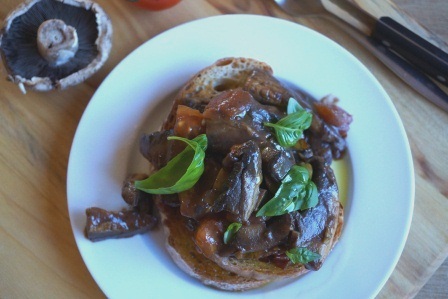 ---
Ingredients
1 tablespoon olive oil + extra for drizzling
500g mushrooms, cleaned and thickly sliced
2 garlic cloves, finely chopped
2 fresh tomatoes, diced
1 tablespoon tomato paste
1/4 cup Vitasoy Original Soy Milk
6-8 large basil leaves, torn
Toast, to serve
if ($ingredientsExtra) { ?>
Any kind of mushrooms work well in this recipe, here a mixture of field and cup mushrooms have been used.
} ?>
Method
Heat a frying pan over high heat and add the oil and the mushrooms. Cook for 2-3 minutes until the mushrooms are starting to brown and wilt.
Add the garlic and tomatoes and cook for 1 minute until the garlic is fragrant. Add the tomato paste and a splash of water and cook for 1 minute more until the mushrooms are tender.
Pour in the soy milk and sprinkle over the basil. Stir for a few seconds to warm through. To serve, drizzle the toast with olive oil and pile the mushrooms on top.
if ($instructionsExtra) { ?> } ?>