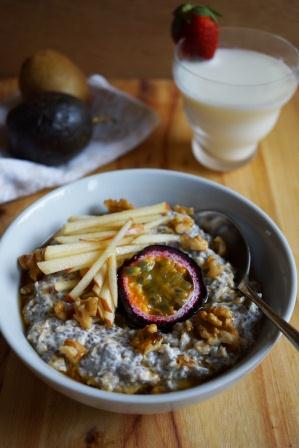 ---
Ingredients
1/3 cup rolled oats
1/4 cup chia seeds
1/2 teaspoon ground cinnamon
2 tablespoons shredded coconut
2 tablespoons yoghurt (coconut yoghurt for dairy free version)
3/4 cup Vitasoy Coconut Milk Unsweetened
Nuts, fresh fruit and maple syrup, to serve
if ($ingredientsExtra) { ?>
Vitasoy Coconut Milk Original may be substituted.
} ?>
Method
Place the oats, chia seeds, cinnamon and shredded coconut into a glass or ceramic bowl.
Add the yoghurt and Vitasoy Coconut Milk Unsweetened and stir for 30 seconds until the chia seeds start to swell and no longer sit dry on the top or sink to the bottom. Cover and leave in the fridge overnight, or at least 4 hours
Spoon into a serving dish and top with nuts, fresh fruit and a drizzle of maple syrup.
if ($instructionsExtra) { ?> } ?>