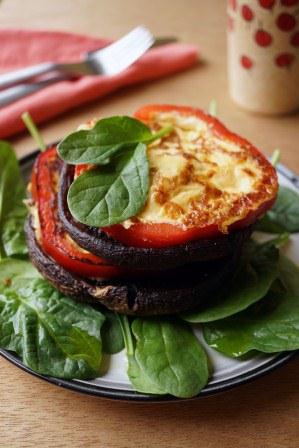 ---
Ingredients
4 tablespoons olive oil + extra to serve
6 eggs
1/4 cup (60ml) Vitasoy Soy Milky Regular
1/2 teaspoon ground paprika
1/2 teaspoon dried oregano
2 tablespoons fetta, crumbled
2 large red capsicums
8 large portabello mushrooms, wiped clean
4 handfuls baby spinach leaves
if ($ingredientsExtra) { ?>
Can substitute with Vitasoy Soy Milky Lite
} ?>
Method
Heat oven to 200C. Place mushrooms stem side up onto a roasting tray. Drizzle with 2 tablespoons of the olive oil and season with salt and pepper. Bake for 15 minutes until tender. Turn off the oven and keep them warm in there while you prepare the eggs.
Whisk together the eggs, Vitasoy Soy Milky, paprika, oregano and fetta in a large bowl until well combined. Set aside.
Prepare the capsicums by slicing each one horizontally into 4 rings so you end up with 8 rings. Place the rings flat on a chopping board and carefully remove the membrane and seeds with a small knife.
Heat 1 tablespoon oil in a large frying pan and add four rings. Spoon some egg mixture into the centre of each ring and cook for 2 minutes until set underside. Carefully flip and cook for 1-2 minutes on the other side. Keep warm and repeat with the remaining capsicum rings and egg mixture.
To serve, place a handful of baby spinach leaves on to each plate then top with two mushrooms and capsicum eggs layered alternately. Drizzle with a little olive oil and serve immediately.
if ($instructionsExtra) { ?> } ?>