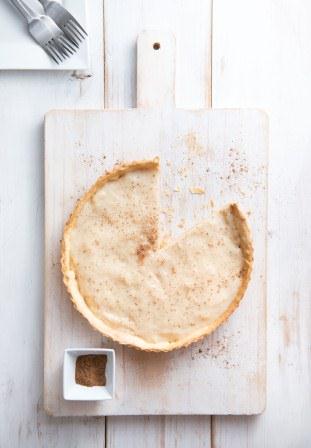 ---
Ingredients
1 sheet of sweet short crust pastry
2 cups Vitasoy Soy Milky Lite
6 tablespoons corn flour
6 tablespoons caster sugar
2 teaspoons vanilla extract
2 tablespoons vegan margarine
nutmeg, to sprinkle
if ($ingredientsExtra) { ?> } ?>
Method
Preheat oven to 180 degrees celsius.
Spray a 20cm quiche tin with oil and press the shortcrust pastry evenly to the corners and up to the rim.
Prick the base a few times to help prevent it from rising. Bake for 10 to 15 minutes until lightly browned and crispy.
In the meantime, make the custard.
Mix the corn flour with the Vitasoy Soy Milky Lite first until the lumps have dissolved. Add this, the caster sugar, vanilla and margarine to a pot on medium heat and whisk until combined. Bring to the boil and then take off the heat and allow to cool. Set aside.
Once the pastry has cooked, allow to cool and fill with the custard.
Sprinkle with nutmeg.
Refrigerate until set.
Slice and enjoy!
if ($instructionsExtra) { ?> } ?>