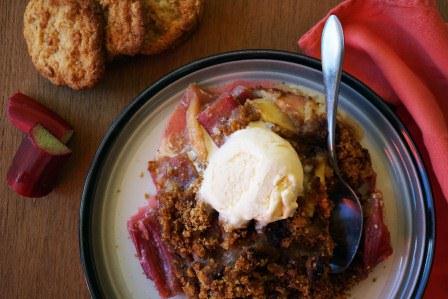 ---
Ingredients
1 tablespoon butter or coconut oil
150g bunch rhubarb, leaves trimmed and stalks sliced into 5cm lengths
400g (4 small) red apples, peeled, cored and sliced into thin wedges
1 teaspoon pure vanilla extract
1/2 teaspoon ground cinnamon
1 orange, halved and juice squeezed (1/3 cup or 85ml)
1/2 cup (125ml) Vitasoy Soy Milky Lite
2 tablespoons raw sugar
300g packet ANZAC biscuits
if ($ingredientsExtra) { ?>
Other soy milks in the Vitasoy range may be substituted (excluding flavoured options). Vitasoy Coconut milk also works for a slightly different flavour.
} ?>
Method
Heat the oven to 180C. Grease a 2L oven-proof dish with the coconut oil or butter.
Place the rhubarb, apple slices, vanilla, cinnamon, orange juice, Vitasoy Soy Milky Lite and sugar into the dish and stir gently.
Blitz the ANZAC biscuits in a food processor until coarse crumbs. Sprinkle over the fruit mix and bake in the oven covered with a lid or aluminium foil for 20 minutes. Uncover and bake for 10 minutes more. Serve warm or cold with ice cream or yoghurt.
if ($instructionsExtra) { ?> } ?>