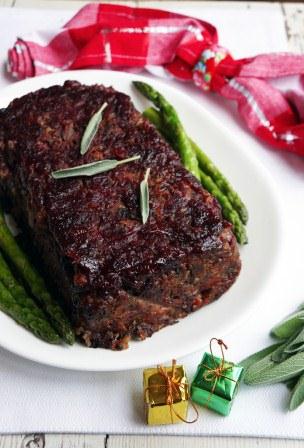 ---
Ingredients
3/4 cup (150g) brown rice
1/2 cup (60g) walnuts
1/2 cup (80g) almonds
300g (3 cups, chopped) mushrooms
1 tablespoon ghee or oil
2 red onions, finely chopped
2 garlic cloves, finely chopped
1/2 cup (125ml) red wine
1/3 cup (80ml) Vitasoy Soy Milky
3 eggs
1 cup (100g) grated cheddar cheese
2 tablespoons chopped parsley
1 tablespoon chopped sage
1 teaspoon lemon zest
1/2 cup (60g) breadcrumbs
275g jar cranberry sauce
if ($ingredientsExtra) { ?>
Make it dairy free by using vegan cheese instead of cheddar, and a plant based oil instead of ghee, like olive or coconut oil.
} ?>
Method
Wash the rice in a sieve under cold running water and place into a saucepan that has a tight fitting lid. Add two cups (500ml) cold water and bring to the boil over high heat. Once boiling, put the lid on and turn the heat down to the lowest setting. Cook for 25 minutes until all the water is absorbed and the rice is tender. Transfer to a large mixing bowl and leave to cool.
Place the walnuts and almonds into the bowl of a food processor and blitz until finely chopped with some chunky bits. Transfer to a bowl and set aside. Add the mushrooms to the food processor and blitz until finely chopped. Set aside.
Melt the ghee in a large frying pan over medium heat. Add the red onion and garlic and sauté for 5 minutes until translucent, stirring often. Add the mushrooms and cook for 2-3 minutes until softened, then pour over the red wine and cook for 2 minutes until evaporated. Stir in the soy milk, then add to the bowl with the cooked rice.
Crack the eggs into a separate bowl and whisk thoroughly. Pour into the rice bowl and add the nuts, grated cheese, herbs, lemon zest and bread crumbs. Season with salt and pepper and stir well.
Heat the oven to 200C. Grease a 20cm loaf tin and line with baking paper. Scoop the entire jar of cranberry sauce into the loaf tin and spread it with the back of the spoon to evenly coat the bottom. Pour in the rice mixture and smooth the top. Cover with foil and bake for 45 minutes. Remove the foil and bake for a further 15 minutes. Rest for 15 minutes.
Loosen around the edges with a knife then quickly flip onto a serving plate and remove the baking paper. Serve hot with your favourite side dishes.
if ($instructionsExtra) { ?> } ?>