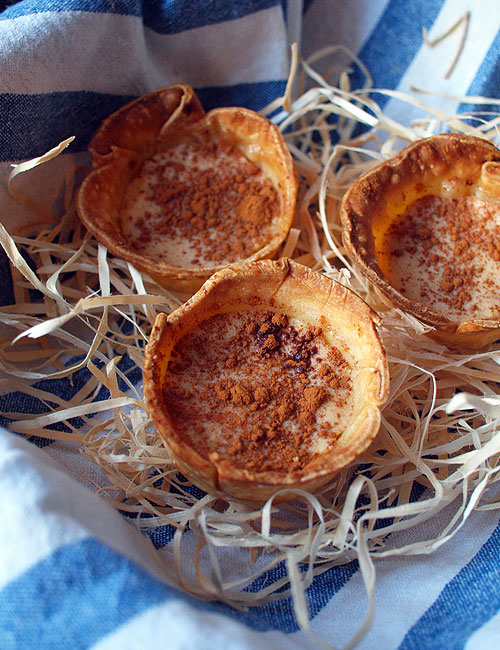 ---
Ingredients
Vegetable oil spray
2 x 12 hole muffin tray
3 sheets sweet short crust pastry, defrosted if frozen
4 egg yolks
100g (1/2 cup) caster sugar
2 teaspoons pure vanilla bean paste or extract
500ml (2 cups) Soy Milky Lite
2 limes, both zested, one juiced
1 tablespoon cinnamon
if ($ingredientsExtra) { ?> } ?>
Method
Grease one 12 hole muffin tray with vegetable spray. Set aside. Cut four 12cm circles out of each sheet of pastry and gently press into each muffin hole. Prick the bases a few times with a fork.
Place the second muffin tray on top, pressing down lightly so that it fits snuggly. Chill in the fridge for 20 mins. Pre-heat the oven to 200C/390F.
Meanwhile, whisk together the egg yolks, sugar and vanilla in a large mixing bowl. Set aside. Heat the soy milk in a medium saucepan on the stove over medium heat until simmering. It is simmering when small bubbles appear on the surface. Do not allow it to boil.
Pour the soy milk into the egg mixture and whisk well to combine. Return the milky mixture to the saucepan on the stove and stir constantly over medium heat until the custard thickens enough to coat the back of a spoon. This should take about 5 minutes. Take off the heat and cover the surface with cling wrap to stop a film forming on the surface.
Remove the muffin tray from the fridge and, leaving the top muffin tray in place, bake in the oven for 10 minutes or until lightly golden. The second muffin tray on top pushes the pastry down and means you don't have to add dried beans / weights to blind bake the pastry.
Remove from the oven and remove the top muffin tray. Stir the lime juice and zest into the custard, then fill the tarts. Bake again for 10 minutes more or until the custard is just set.
Sprinkle with cinnamon and serve warm or chill in the fridge and serve cold.
if ($instructionsExtra) { ?> } ?>