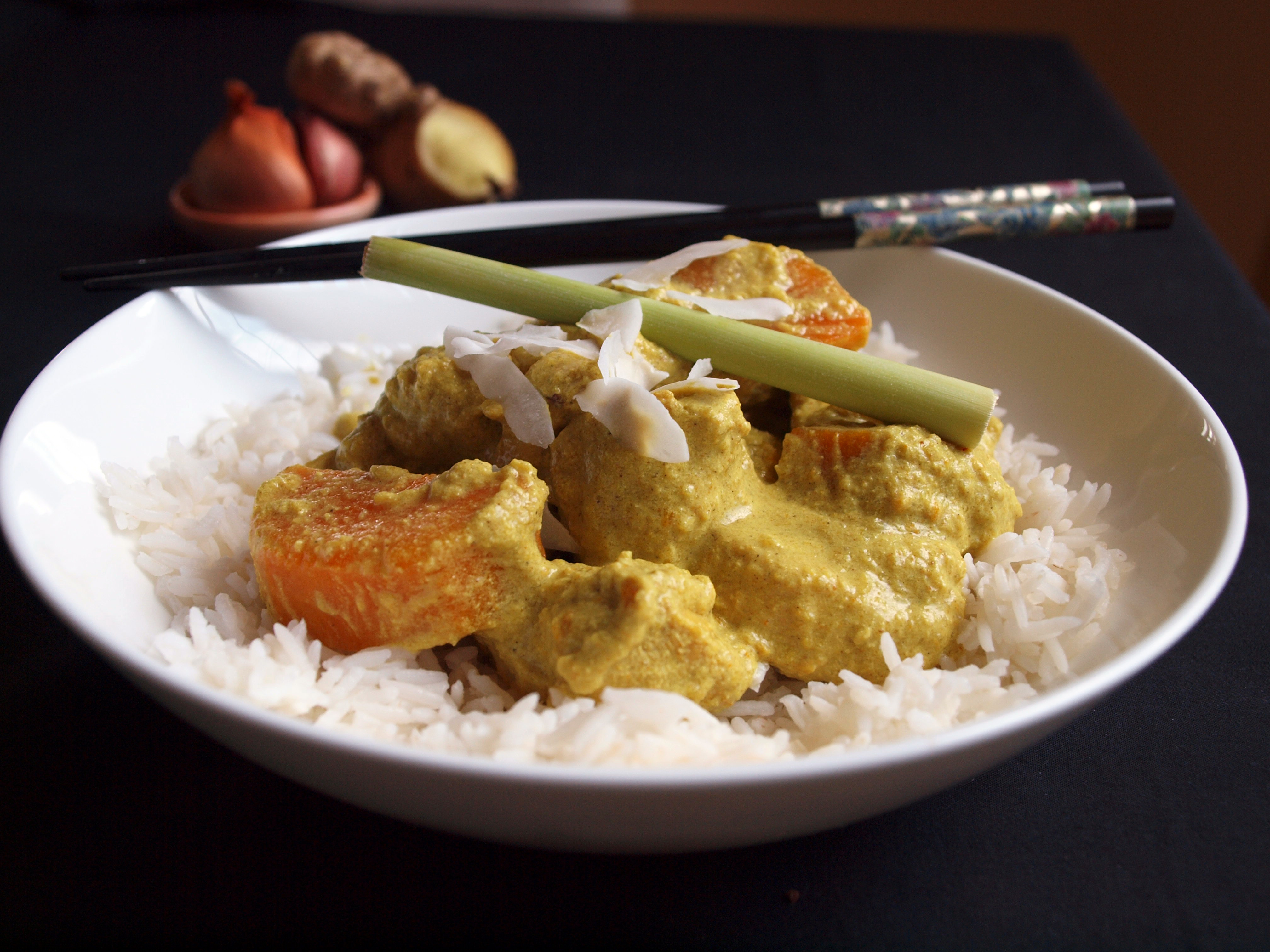 ---
Ingredients
1 lemongrass stalk, white part only, chopped
4 garlic cloves, peeled
5cm piece ginger root, peeled and chopped
4 shallots, peeled and chopped (or 1 red onion)
2 tablespoons gluten free Malaysian curry powder (or medium curry powder, such as the Ayam brand)
3 tablespoons coconut oil (or vegetable oil)
500g chicken breast, diced
400g sweet potato, peeled and diced
250ml coconut milk
250ml Vitasoy Soy Milky Lite
1 tablespoon brown sugar (optional)
if ($ingredientsExtra) { ?> } ?>
Method
Place the lemongrass, garlic, ginger and shallots into a food processor and pulse until a paste forms. Stir in the curry powder.
Mix half of the paste with the diced chicken and leave to marinate in the fridge for 30 minutes.
Meanwhile, heat 1 tablespoon of the coconut oil in a non-stick, deep frying pan and add the remaining curry paste. Cook over medium heat, stirring frequently, for 3-4 minutes until fragrant and darkened in colour.
Turn the heat up to high and add the chicken. Quickly sauté on all sides to seal, being careful not to burn the paste. Add the sweet potato, coconut milk, soy milk, half a cup of water and the brown sugar. Stir to combine, scraping any bits off the bottom of the pan.
Bring to the boil, then turn the heat down to low and simmer for 15 minutes until the chicken is cooked through and the sweet potato is tender. Serve with rice.
if ($instructionsExtra) { ?> } ?>