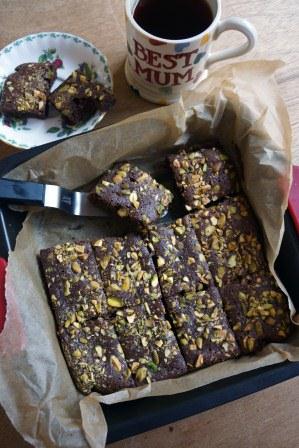 ---
Ingredients
1/3 cup coconut oil
1/2 cup cocoa powder
6 eggs
1/4 cup Vitasoy Coconut Milk Unsweetened
1 teaspoon pure vanilla extract
1/8 teaspoon salt
3/4 cup raw sugar
1/2 cup coconut flour
1/2 cup pistachios, chopped
if ($ingredientsExtra) { ?>
Substitute any other nut you prefer instead of pistachios or use shredded coconut. Vitasoy Original Coconut milk may also be used.
} ?>
Method
Heat the oven to 180C and line a 20cm square baking tin.
Place the coconut oil and cocoa into a small saucepan and stir over medium heat for 1 minute until smooth and glossy. Set aside to cool.
Whisk the eggs, Vitasoy Unsweetened Coconut milk, vanilla, salt and sugar in a large bowl. Whisk in the chocolate mixture and then sift over the coconut flour (because it's usually a bit lumpy). Whisk until well combined.
Pour into the lined tin and sprinkle with chopped pistachios. Bake for 20 minutes on the bottom shelf. Slice and serve warm or chill and serve cold.
if ($instructionsExtra) { ?> } ?>