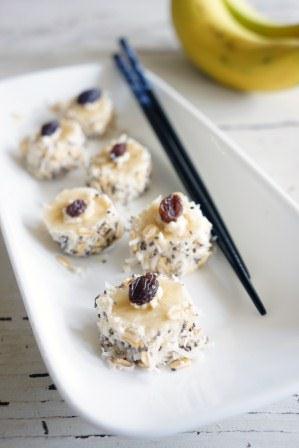 ---
Ingredients
3 tbs fresh ricotta cheese
1 tbs peanut butter
1 tbs honey
4 tbs Vitasoy Almond Milk Unsweetened
2 tbs rolled oats
2 tbs shredded coconut
1 tbs chia seeds
2 bananas
2 tbs sultanas
if ($ingredientsExtra) { ?> } ?>
Method
Place the ricotta, peanut butter, honey and Vitasoy Almond Milk Unsweetened into a bowl and mash with a fork until smooth and combined. Set aside.
Place the rolled oats, coconut and chia seeds onto a plate and mix with your fingers to combine.
Peel the bananas and spread all over with the ricotta mixture using a knife. Keep a few tablespoons aside to use later. Lay the bananas down on the plate and roll in the oat mixture, pressing gently to coat.
Slice into 1cm thick rounds and place onto serving plates. Dollop a bit of ricotta mixture onto the centre of each piece and garnish with a sultana to look like sushi filling. Serve immediately.
if ($instructionsExtra) { ?> } ?>