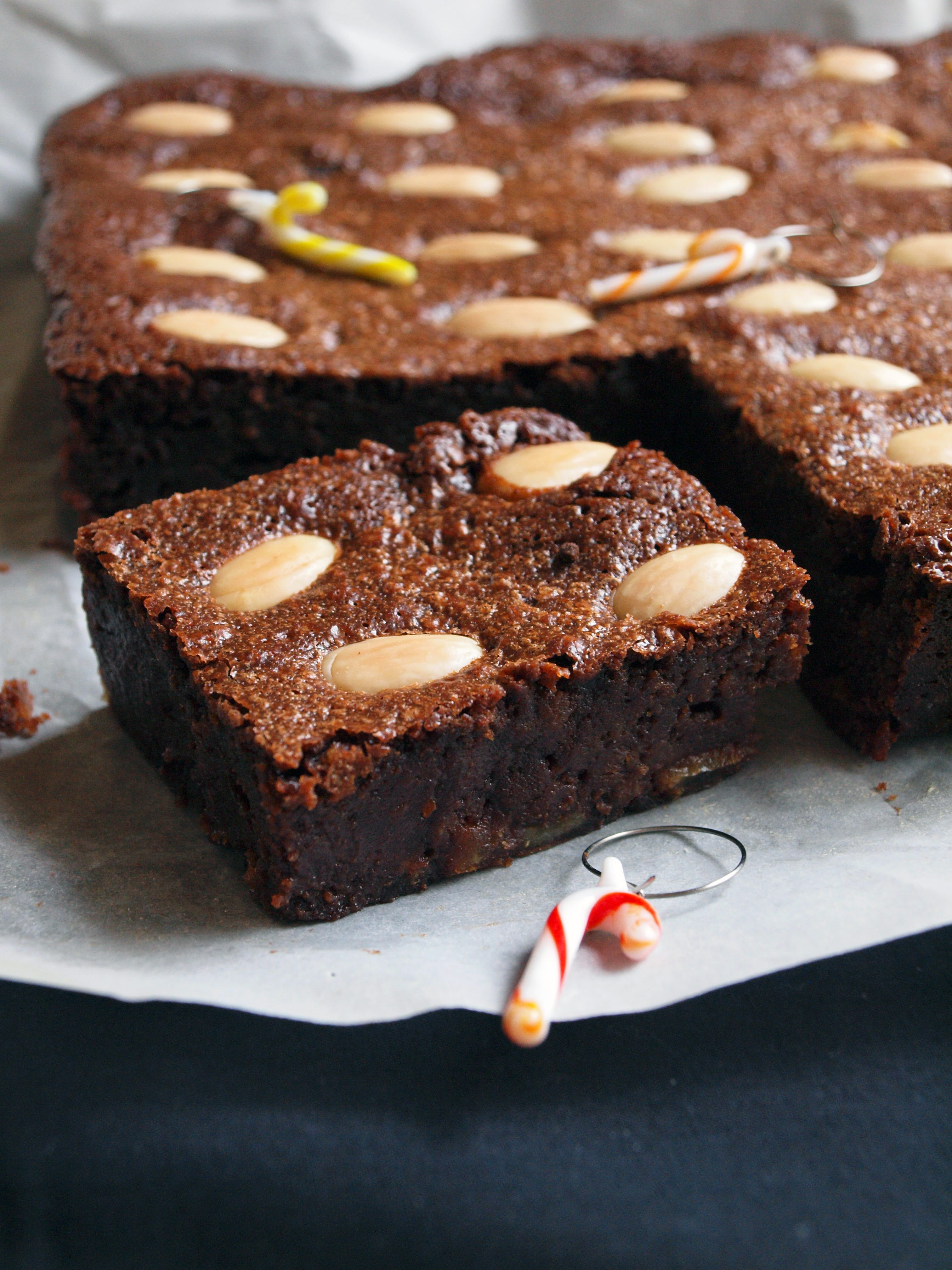 ---
Ingredients
1/2 cup mixed dried fruit (including peel)
1/4 cup glacé cherries
60ml (1/4 cup) brandy (optional)
250g butter, chopped
250g dark chocolate, chopped
3/4 cup brown sugar
1 teaspoon vanilla bean paste or pure extract
60ml (1/4 cup) Vitasoy Soy Milky Lite
3/4 cup gluten free plain flour (I used Orgran brand)
1 teaspoon guar gum (or xantham gum)
1.5 teaspoons mixed spice
3 large eggs
20 blanched almonds
if ($ingredientsExtra) { ?> } ?>
Method
Heat oven to 190C. Grease and line a 20cm square slice tin. Place the dried fruit and cherries into a small bowl with the brandy (if using) and half a cup of boiling water. Set aside to soak.
Place the butter, chocolate, brown sugar, vanilla and soy milk into a saucepan and stir constantly over medium heat until melted, smooth and glossy. Allow to cool for 5 minutes.
Place the the gluten free flour, guar gum and mixed spice into a large mixing bowl and stir to combine.
Crack the eggs into a separate bowl and whisk until well combined. Add the melted chocolate mixture and stir well. Fold in the flour mixture, then the dried fruit.
Pour into prepared tin and smooth the top. Garnish with blanched almonds and bake for 25 minutes until mostly set with a very slight wobble. Allow to cool in the tin until room temperature or chill in the fridge until completely cold. Serve in small squares with coffee or plate up with custard as dessert.
if ($instructionsExtra) { ?> } ?>